Student Volunteer Army have come to town!
1st Oct 2022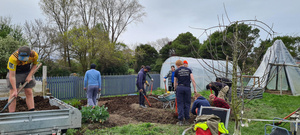 A massive shoutout and thank you to the Student Volunteer Army for their mahi in our Community Garden today - check out the before and after photos! It wasn't an easy job, lots of twitch and buttercup! So grateful for the help and looking forward to planting the corn in our koru garden.
Such a cool group of young people wanting to come and volunteer their time in another community - very impressed guys, thank you ~ Sarah.