Pizza and Politics
19th Jul 2022
We hosted a 'Pizza and Politics' night upstairs at the Lobby, for young people aged 18 - 24 (ish) to come grab some free pizza, enroll to vote, and learn a little about the upcoming local elections! Thanks to all the people who came - it was an awesome night! Congratulations to Josh - the prize winner of the evening - on winning $150 fuel vouchers!
Pottered Potter
16th Jul 2022
We just had an amazing trip to Christchurch to see 'Pottered Potter' at the Court Theatre!
Side Hustle
29th Jun 2022
What an amazing group of young business people we heard from tonight! Our young entrepreneurs pitched their business ideas to Tony Henderson-Newport from Rebel Business School Aotearoa - wow, these guys have a huge amount of creativity and talent!
All of these businesses are winners but the recipient of our prize tonight of $500 seed funding is Rochelle Clark for her business - The Tasty Tams - selling tamarillo plants!
A massive thank you to Tony, to the Ministry of Youth Development, The Prince's Trust NZ, our local entrepreneurs who presented at the Beach House a few months ago at the start of this journey - Gus, Mātangi, Corrina and Lauren - and to Wero Wayfinding for their fostering of these young people's entrepreneurial skills.
Careers Day
20th Jun 2022
We had an awesome time at careers day today - thanks Kaikōura High School!
June Newsletter
20th Jun 2022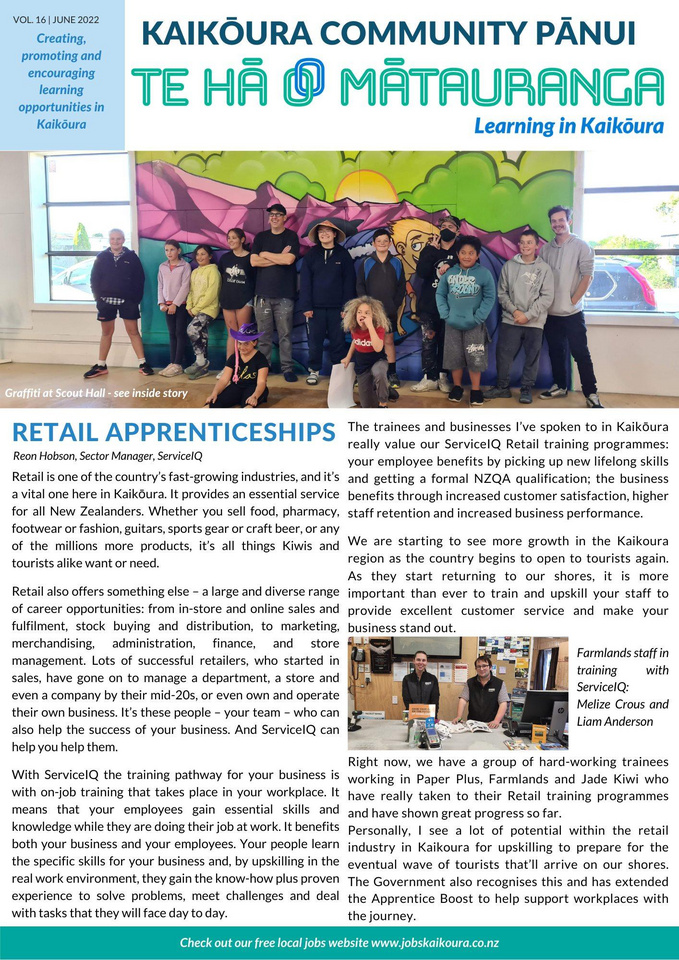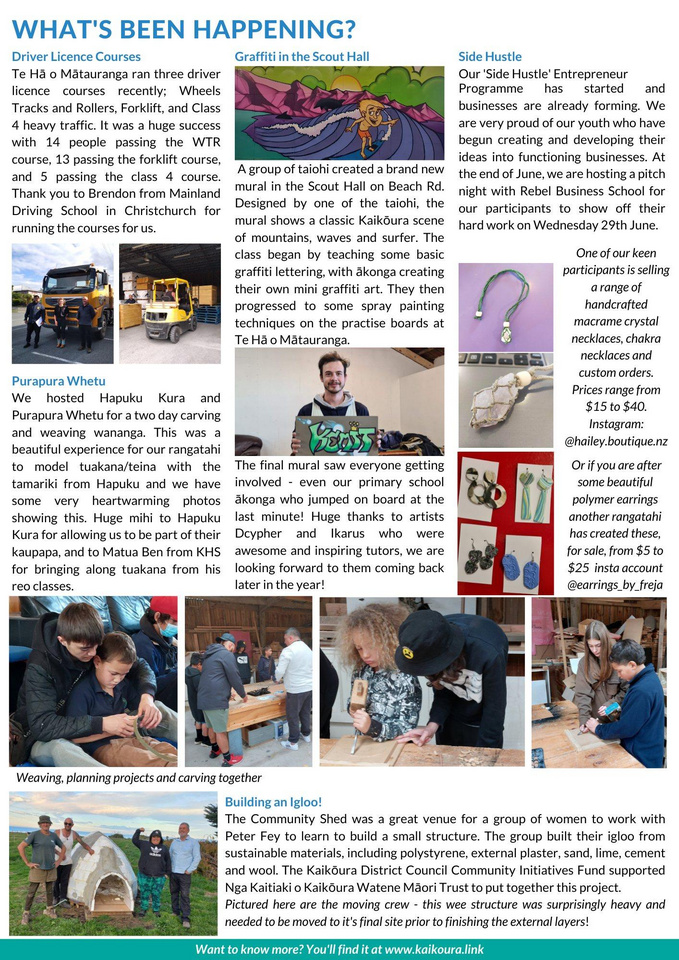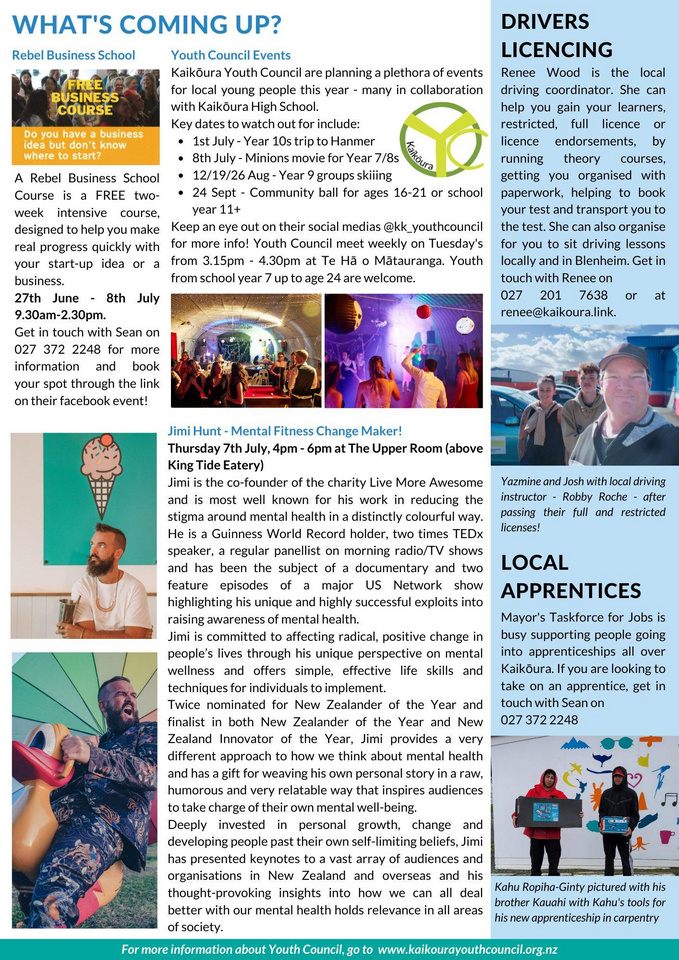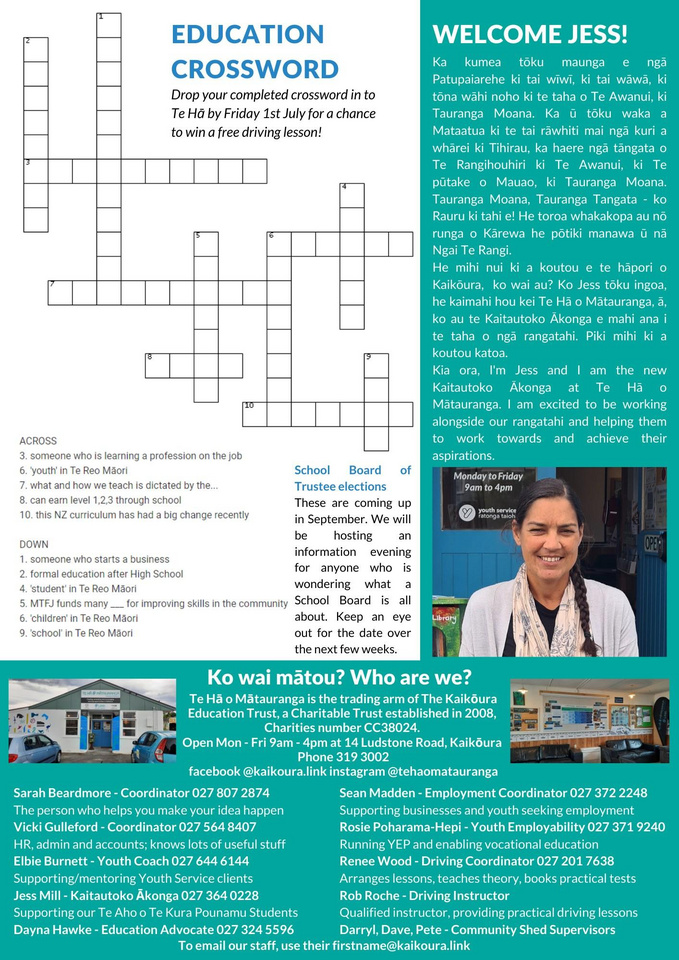 Check out our June newsletter!!
Defensive Driving in Kaikōura
19th Jun 2022
We had an awesome turnout - 18 people - at the Defensive Driving course hosted at thye Scout Hall recently! In order to complete a defensive driving course, participants must attend 8 hours of theory and a 1 hour practical drive. The course helps participants develop; better control when driving, advanced driving skills, the ability to make the right decisions while driving, and the ability to manage risk while driving!
Mural Workshop
30th May 2022
Massive thanks to Guy and Nick and our awesome group of rangatahi who created this amazing mural in the weekend in the Scout Hall. Lots of fun and learning went on. Thanks MYD for the funding!
Purapura whetu
10th May 2022
Purapura whetu ran some awesome carving and weaving workshops at Te Hā o Mātauranga today, and we had the priviledge of hosting Hapuku Kura while they took part! This was a beautiful experience for our rangatahi to help the tamariki from Hapuku in their creating. Huge mihi to Hapuku Kura for allowing us to be part of their kaupapa, and to Matua Ben from KHS for bringing along tuakana from his reo classes.