Pizza and Politics
19th Jul 2022
We hosted a 'Pizza and Politics' night upstairs at the Lobby, for young people aged 18 - 24 (ish) to come grab some free pizza, enroll to vote, and learn a little about the upcoming local elections! Thanks to all the people who came - it was an awesome night! Congratulations to Josh - the prize winner of the evening - on winning $150 fuel vouchers!
Pottered Potter
16th Jul 2022
We just had an amazing trip to Christchurch to see 'Pottered Potter' at the Court Theatre!
Side Hustle
29th Jun 2022
What an amazing group of young business people we heard from tonight! Our young entrepreneurs pitched their business ideas to Tony Henderson-Newport from Rebel Business School Aotearoa - wow, these guys have a huge amount of creativity and talent!
All of these businesses are winners but the recipient of our prize tonight of $500 seed funding is Rochelle Clark for her business - The Tasty Tams - selling tamarillo plants!
A massive thank you to Tony, to the Ministry of Youth Development, The Prince's Trust NZ, our local entrepreneurs who presented at the Beach House a few months ago at the start of this journey - Gus, Mātangi, Corrina and Lauren - and to Wero Wayfinding for their fostering of these young people's entrepreneurial skills.
Careers Day
20th Jun 2022
We had an awesome time at careers day today - thanks Kaikōura High School!
June Newsletter
20th Jun 2022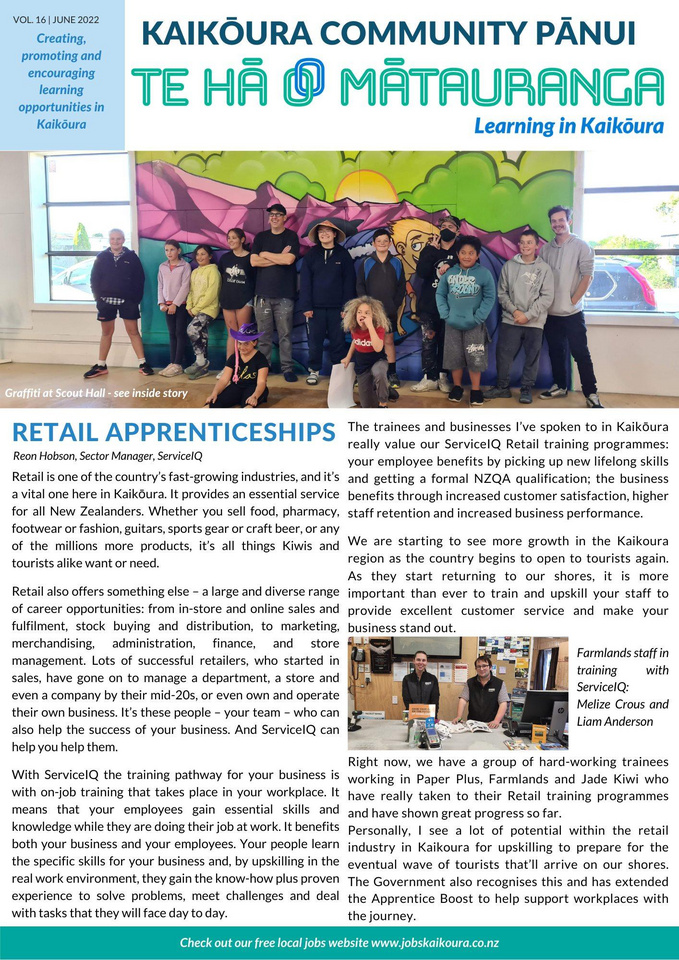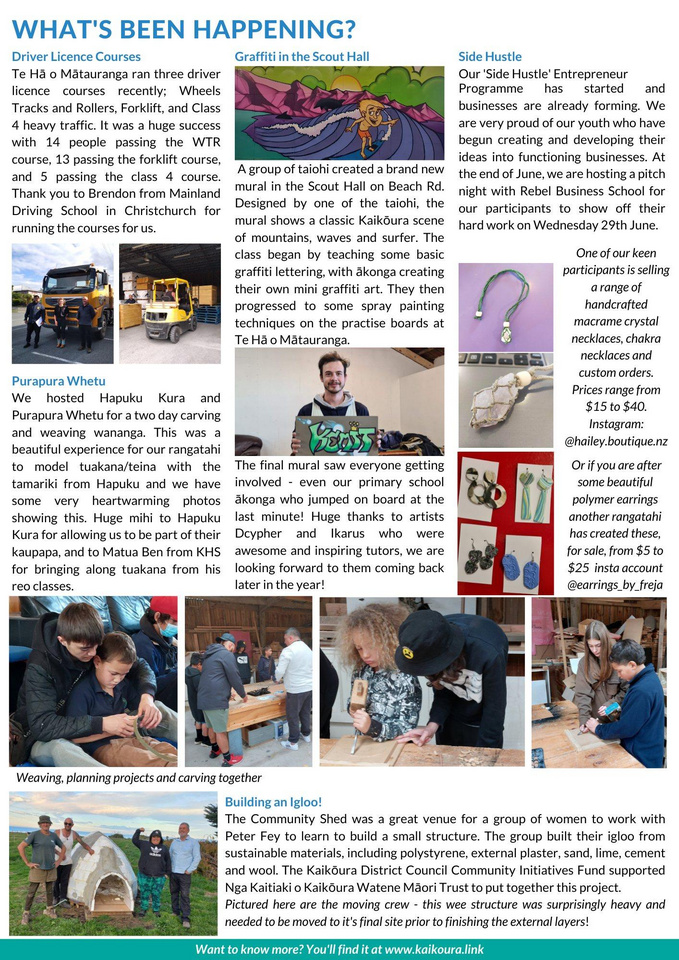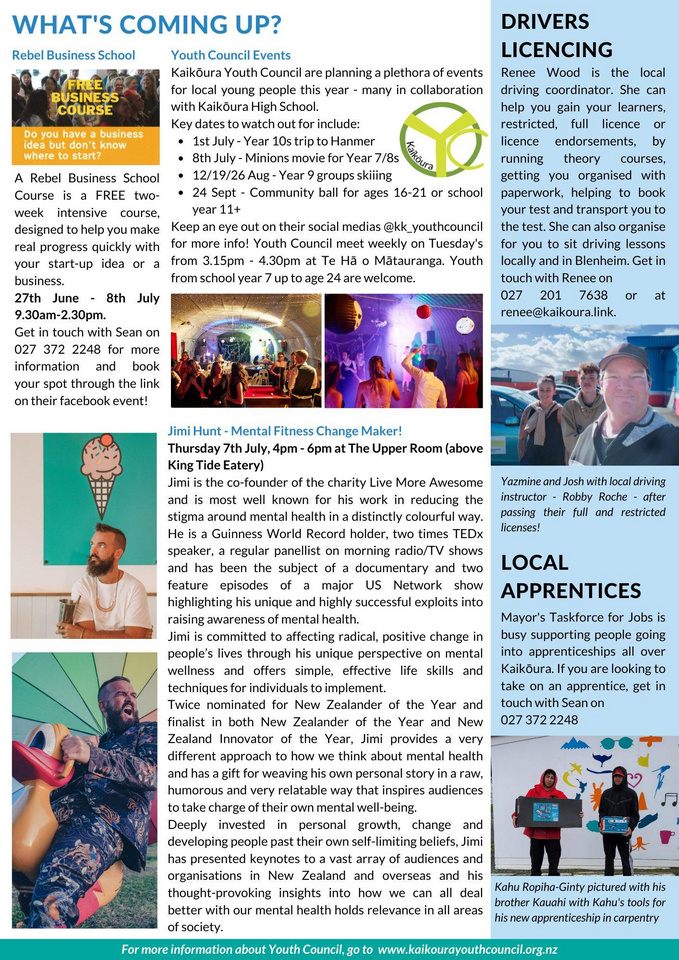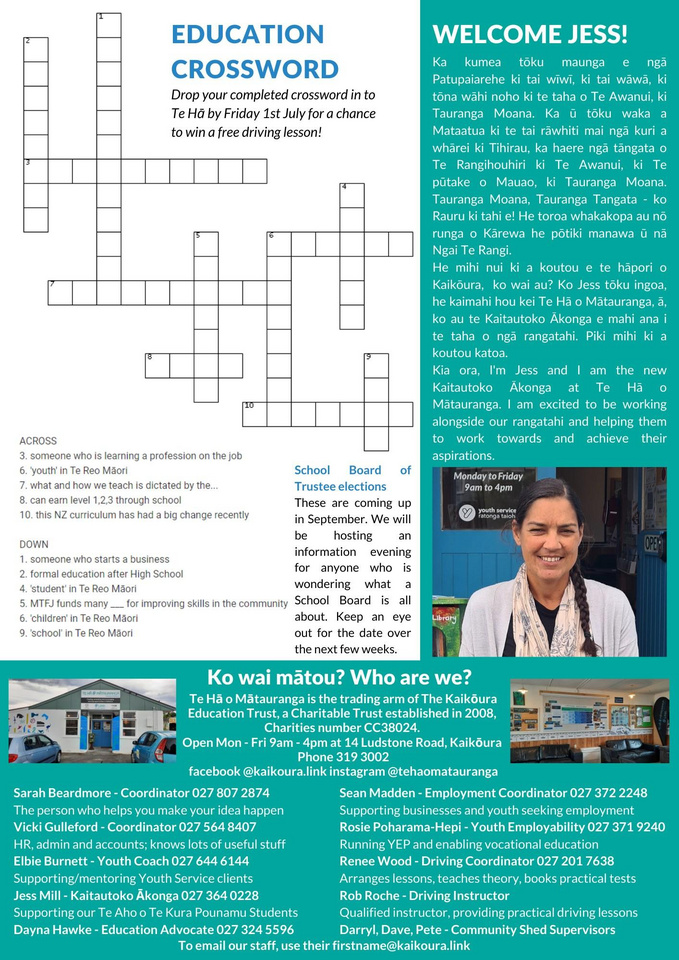 Check out our June newsletter!!
Defensive Driving in Kaikōura
19th Jun 2022
We had an awesome turnout - 18 people - at the Defensive Driving course hosted at thye Scout Hall recently! In order to complete a defensive driving course, participants must attend 8 hours of theory and a 1 hour practical drive. The course helps participants develop; better control when driving, advanced driving skills, the ability to make the right decisions while driving, and the ability to manage risk while driving!
Helping your people help your business
3rd Jun 2022
Retail is one of the country's fast-growing industries, and it's a vital one here in Kaikoura. It
provides an essential service for all New Zealanders. Whether you sell food, pharmacy,
footwear or fashion, guitars, sports gear or craft beer, or any of the millions more products,
it's all things Kiwis and tourists alike want or need.
Retail also offers something else – a large and diverse range of career opportunities: from
in-store and online sales and fulfilment, stock buying and distribution, to marketing,
merchandising, administration, finance, and store management. Lots of successful retailers,
who started in sales, have gone on to manage a department, a store and even a company
by their mid-20s, or even own and operate their own business. It's these people – your team
– who can also help the success of your business. And ServiceIQ can help you help them.
With ServiceIQ the training pathway for your business is with on-job training that takes place
in your workplace. It means that your employees gain essential skills and knowledge while
they are doing their job at work. It benefits both your business and your employees. Your
people learn the specific skills for your business and, by upskilling in the real work
environment, they gain the know-how plus proven experience to solve problems, meet
challenges and deal with tasks that they will face day to day.
The trainees and businesses I've spoken to in Kaikoura really value our ServiceIQ Retail
training programmes: your employee benefits by picking up new lifelong skills and getting a
formal NZQA qualification; the business benefits through increased customer satisfaction,
higher staff retention and increased business performance.
We are starting to see more growth in the Kaikoura region as the country begins to open to
tourists again. As they start returning to our shores, it is more important than ever to train
and upskill your staff to provide excellent customer service and make your business stand
out.
Right now, we have a group of hard-working trainees working in Paper Plus and Jade Kiwi
who have really taken to their Retail training programmes and have shown great progress so
far.
Personally, I see a lot of potential within the retail industry in Kaikoura for upskilling to
prepare for the eventual wave of tourists that'll arrive on our shores. The Government also
recognises this and has extended the Apprentice Boost to help support workplaces with the
journey.
- Reon Hobson, Sector Management, ServiceIQ
Mural Workshop
30th May 2022
Massive thanks to Guy and Nick and our awesome group of rangatahi who created this amazing mural in the weekend in the Scout Hall. Lots of fun and learning went on. Thanks MYD for the funding!