Hit the Poster Exhibition
4th Apr 2022
Our youth art exhibition is now open at the J and S Wyatt Exhibition Suite at the Mayfair - displaying some awesome work created by taiohi in a workshop led by local artist Matt Moriarty.
Sexwise
22nd Mar 2022
A massive thanks to the crew from THETA Sexwise for the very entertaining performance and fabulous discussion about healthy relationships.
Garden BBQ
4th Mar 2022
We are having a BBQ for our garden volunteers today - so if you have worked in the garden, even for a little bit, come and join in at 12.30 - we would love to see you! You don't need to bring anything for the bbq, just yourselves!
We have a new position!
1st Mar 2022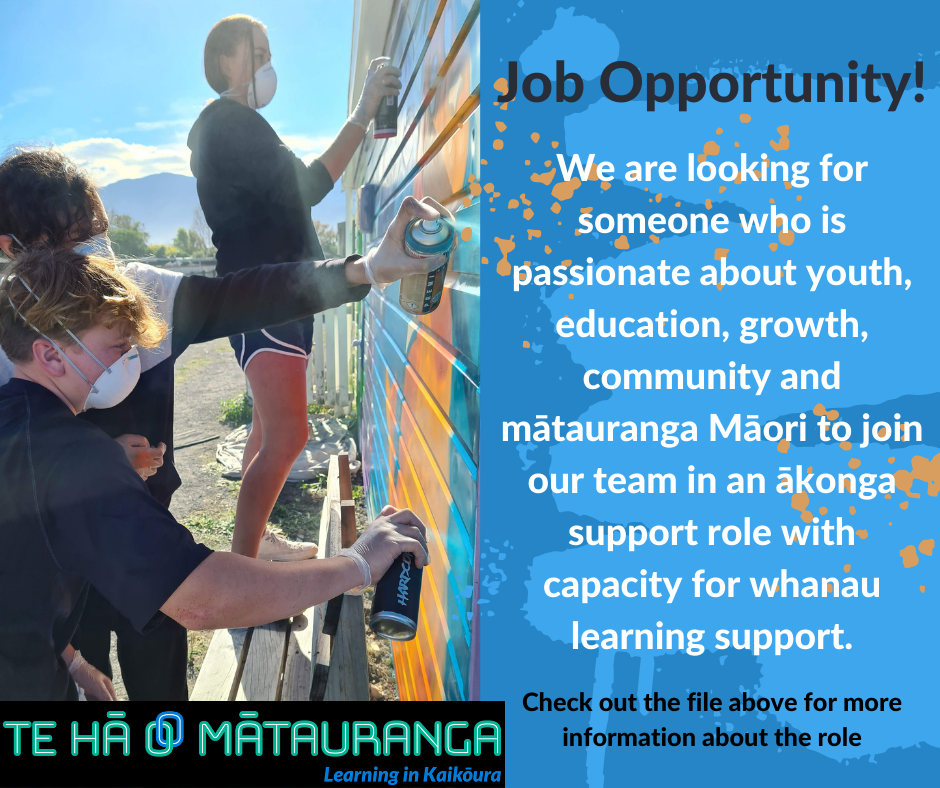 Fantastic opportunity to make a difference... We are looking for someone to fill a full-time Kaitautoko Ākonga - Learner Support role. Check out the full Job Description to learn more about this exciting opportunity! https://drive.google.com/.../12mN.../view...
Hit the Poster
27th Feb 2022
Huge shout out to Matt Moriarty for running this amazing digital art workshop! We had 10 focused and enthusiastic participants who all worked full steam and created some very cool posters - thanks to the Ministry of Youth Development for funding this opportunity!
Haiku February
25th Feb 2022
Haiku Feb went off with style down at the container mall today!
Poets took up pens
thought of words and created
their masterpieces
This was run in collaboration with the Kaikōura Library and Kaikōura Museum!
YEP 2022!
2nd Feb 2022
The Youth Employability Programme is starting up again on the 9th of Feb! check out the video to see what it's all about...
Youth Audit
25th Jan 2022
We have a Youth Audit coming up to assess our space and discover what we can do to improve it for our local young people. This is happening from 10.30 am - 1pm of Friday 28th January. There is a $20 voucher for all participants in the auditing group, and kai provided! Get in touch for any questions or to register on 027 564 8407.
There are also audits running for the Scout Hall and the Kaikōura District Library (both sessions must be attended for these audits).
Library - Friday 28th 2.30pm - 5pm and Saturday 29th 11am - 12pm
Scout Hall - Friday 28th 7pm - 9pm and Saturday 29th 1pm - 2pm