Our new mural is complete!
3rd May 2021
Another huge creative effort from Kaikōura youth - we are loving our newest mural at Te Hā o Mātauranga! A huge thank you to our graphic artists who were focused and talented and created such a stunning artwork, and to Matt Moriarty for a huge day supporting, guiding and enabling!
As well, a big shout out to the Ministry of Youth Development who support us to enable opportunities for youth.
Our building is looking super colourful thanks to the efforts of our young people and their artistic flair!
Graffiti Art
27th Apr 2021
We had some very talented young people create a very cool mural at Te Hā o Mātauranga today - kudos to Paki, Yazmine, Hailey, Ihaia, Hanatia, Ryder, Kurapa, Ngaria-Jane, Dcypher/XL Street Murals and Ikarus DTRcrew!
Fun with Words goes Rafting!
23rd Apr 2021
Our Fun with Words group went white water rafting on the Clarence today! Thankyou to Sport Tasman and Clarence River Rafting! They all had a blast - there was a whole heap of squealing and lots of swimming!
Hit The Fence is BACK!!
20th Apr 2021
We have Matt Moriarty coming to take another workshop with our rangatahi to create some new murals along our fences - like the one on our front wall! This is great for people who are keen on learning some graphis design skills. This workshop is running on Friday, April 30th from 10am - 4pm. If you are aged between 12 and 24 and interested in coming along contact Sarah on 027 807 2874.
Ka pai Puku
1st Apr 2021
There's been plenty of fresh fruit and veg put into our ka pai puku stand outside Te Hā O Mātauranga over the last wee while! A big thankyou to everyone who has contributed to the stall - the community is loving it. Keep it up Kaikōura!
Barista training
25th Mar 2021
On Tuesday 30th March, from 9am - 5pm, we have NMIT coming to Kaikōura to run 'Introduction to Espresso' NCEA Level 2. This course is designed to introduce young people to the art of making espresso coffees. Students will cover coffee production processes, espresso equipment, and the techniques involved in making a delicious espresso coffee!
If you are interested in attending this barista training, give Sean a call on 027 327 2248, or pop in to see us at 14 Ludstone Rd.
Social Experiment in Kaikōura!
21st Mar 2021
The Social Experiment is an incredible bunch of young entrepreneurs who have set up a very cool programme to inspire, motivate, and arm you with the courage and tools to create change and move forward positively in your goals.
It was an awesome opportunity for our young people aged 15-24, to be able to attend this workshop in Kaikōura over the weekend! A massive shout out to all the rangatahi who attended, to the SoX team from all around New Zealand and to our amazing Mani and Rosie. We are going to see some activating come out of all the planning in the next few weeks...
endorseMe - app by Smart Waikato
5th Mar 2021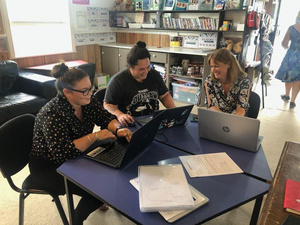 It was awesome to have Smart Waikato come and give us some face to face training on how to use their very cool app - endorseMe. This app is looking like a great tool to grow employability skills - we are going to be using this with the Youth Employability Programme rangatahi! Thanks for making the effort to come all the way to Kaikōura Maddie and Anna!